Hunt-Groups
A Hunt Group allows you to create a team of users, as well as determine how calls are distributed amongst them.
Choose from the following:
Linear: delivers the caller to the first available user.
Skill-based: prioritises calls to users, and distributes the calls evenly amongst similarly skilled users.
Longest waiting: ensures an even distribution of calls across all users.
Concurrent: delivers the caller to all available users simultaneously, up to a maximum of 20 users.
To create a new Hunt Group or manage an existing group, navigate to SwitchBoard > Huntgroups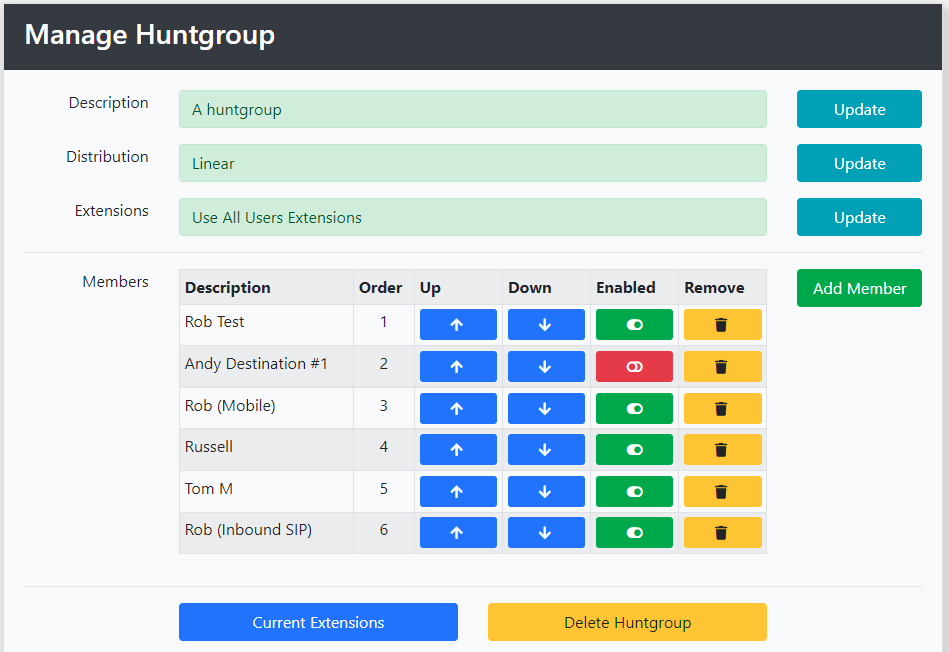 Description helps identify the Hunt Group when used throughout the solution and reporting options.
Distribution can be changed at any time to alter how calls are routed. It will change the available options displayed in the list of users.
Extensions applies an additional filter to available users and which extensions the system should attempt to dial. Choose between:
All Extensions. The system will attempt to dial each user's extension.
Exclude Voicemail Detection. The system will try all the users' extensions, but exclude those which have been configured to check that the call is not answered by an external voicemail (Mobile Networks primarily).
Primary Extensions Only. Only attempt the user's extension in dial order position one.
Primary Extensions without Voicemail Detection, as above but also excluding extensions with Voicemail Detection.
Softphones Only. Restrict the distribution of calls to just the SIP Extensions of users.
Adding & Removing Members
Users can be added to or removed from a Hunt-Group at any time.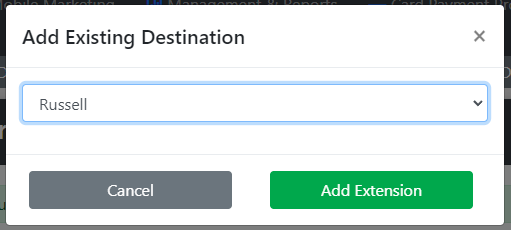 Once a new user has been added to the hunt-group their dial order or skill can be adjusted using the + and - buttons in the list.
Users can be removed from the hunt-group temporarily by using the 'Enabled Toggle' or permanently with the 'Trash' button.
Skill Based Routing
When using skilled-based routing, different priority levels can be attributed to each user. Higher prioritised extensions can, for example, receive calls first. When these extensions are unavailable, calls can be routed to extensions attributed with lower priority ratings.
If two or more extensions have the same priority, the system automatically selects the extension that has been idle for the longest time period to ensure an even call distribution.
Concurrent Distribution
Concurrent Distribution is not recommended for use within high call volume solutions, as the potential throughput of callers is greatly reduced as the system can only attempt to deliver one caller at a time. This is especially prevalent if a call may go un-answered if all users are at any time away from their desks.
---
---